A new document summarizing the ongoing 'family synod' meeting of Catholic leadership reveals church officials are signaling a dramatic shift in tone regarding not only homosexuality, but divorce and contraception, The Tablet reports: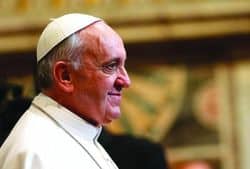 A document released at the halfway point of the gathering said that gay Catholics' orientation should be valued and that they have "gifts and qualities" to offer parishes. The document also praised elements of same-sex partnerships.
"Are we capable of welcoming these people, guaranteeing them fraternal space in our communities? Often they wish to encounter a Church that offers them a welcoming home," the document, presented this morning by Cardinal Peter Erdo, the relator general of the synod, stated. "Are our communities capable of providing that, accepting and valuing their sexual orientation, without compromising Catholic doctrine on family and matrimony?"
The Associated Press adds:
For a 2,000-year-old institution that believes gay sex is "intrinsically disordered," even posing the question is significant.
"This is a stunning change in the way the Catholic church speaks of gay people," said the Rev. James Martin, a Jesuit author. "The Synod is clearly listening to the complex, real-life experiences of Catholics around the world, and seeking to address them with mercy, as Jesus did."
The bishops repeated that gay marriage was off the table. But it acknowledged that gay partnerships had merit.
"Without denying the moral problems connected to homosexual unions, it has to be noted that there are cases in which mutual aid to the point of sacrifice constitutes a precious support in the life of the partners," they said.
For heterosexuals, the bishops said they must grasp the "positive reality of civil weddings" and even cohabitation, with the aim of helping the couple commit eventually to a church wedding.
The document also reveals bishops have called for a re-reading and greater study of the church's guidelines for opposition to artificial birth control, stating the need to "respect the dignity of the person in the moral evaluation of the methods of birth control.
Additionally, the document showed disagreement between bishops on the issue of Communion for divorced and remarried Catholics, with calls for greater theological study on the matter.