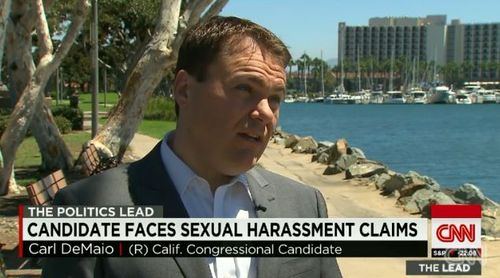 Carl DeMaio's campaign to become the openly gay GOP representative for California's 52nd congressional district was rocked this week by allegations DeMaio sexually harassed a former campaign staffer and attempted to bribe the man as cover-up.
DeMaio, who bills himself as a "new generation Republican" has categorically denied the claims and counters his accuser, Todd Bosnich, is a disgruntled ex staffer who was fired for plagiarism and may be responsible for the break-in at DeMaio's San Diego office back in May. 
CNN investigative correspondent Chris Frates traveled to Southern California to interview DeMaio and Bosnich and see if he could get some answers to help set the story straight.
Watch, AFTER THE JUMP…
CNN adds:
This is not the first time DeMaio has been accused of sexually inappropriate behavior. Last year, a fellow city councilman said he twice caught DeMaio masturbating in a city hall restroom — an allegation DeMaio denied.