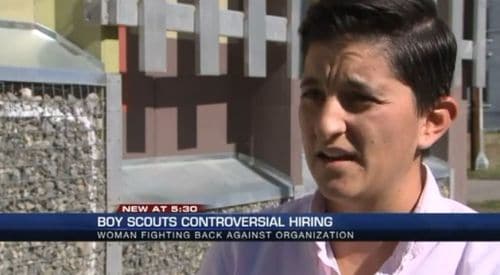 A Colorado woman is claiming that the Boy Scouts of America offered her a job only to rescind the offer after finding out she's gay, Denver's FOX 11 reports.
After being offered the position of Director of the New Adventure Center, Yasmine Cassini sent an email to the organization asking whether her being an "openly gay woman" would be an issue for the BSA, which still has a discriminatory policy banning gay adults from serving in leadership roles. It seems it was an issue, as the BSA told Cassini in a follow-up phone call that she no longer met the minimum qualifications for the position and would not be hired.
The Boy Scouts would not talk to FOX31 Denver on camera, but the organization released the following statement:
"As this is a personnel matter, we are not at liberty to discuss details. But, during the employment process, this individual brought it to our attention that she did not meet the requirements for employment." […]
Yasmine Cassini says she though the Boy Scouts recent youth membership modifications would provide the perfect spot for progress. "I want to raise awareness that discrimination is not OK – and it's something that is still occurring and it has to stop, something needs to change and that change needs to happen now," she says.
Watch a FOX 11 news report on the story, AFTER THE JUMP…