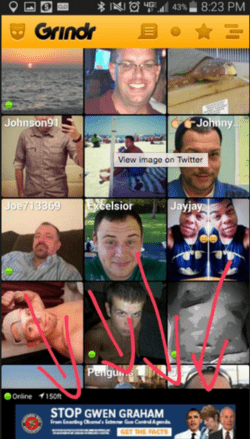 GOP frontrunner Tom Cotton (R) is running a tight race with Mark Pryor (D)  for one of Arkansas's senatorial seats. Recent polls out of the University of Arkansas have Cotton leading Pryor by a margin of 49-36%. His lead is due in no small part to a recent endorsement from the NRA and maybe (just maybe) the set of ads the pro-gun organization ran for him on Grindr.
According to The Daily Beast, the NRA paid for a batch of banner ads featuring Cotton that popped up on the popular gay networking app. While Grindr is no stranger to featuring advertisements for a wide range of social causes, the platform has a policy against running political advertising provided by third-party networks.
"While we do have safeguards in place to monitor for ads on third-party networks, we do serve billions of ads on our network, so there is the occasional chance that ads like this may appear," a Grindr representative explained to The Daily Beast. "In this instance, we've reached out to the third-party networks to have these ads removed."
As word about the ads spread across the internet, the firm purportedly responsible for placing them and Grindr CEO Joel Simkhai denied any involvement or knowledge of the curious endorsement.
"We have no knowledge of the ad mentioned," Simkhai told Buzzfeed. "We do not welcome the NRA to advertise with us."
In related news, LGBT ally Zach Wahls was tipped by a friend this week that Iowa GOP Senate hopeful Joni Ernst was also running ads on the gay app. 
From a friend: @joniernst is advertising on @Grindr in Iowa. This time with a screenshot. pic.twitter.com/AOHvbfqQGV

— Zacharia Wahls (@ZachWahls) October 29, 2014