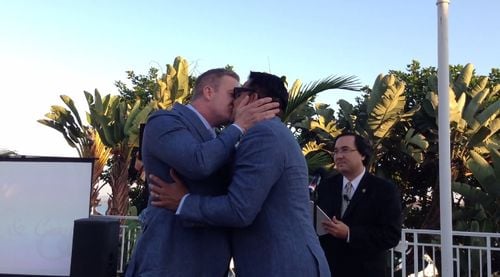 Last month we reported that Arizonans Oscar De Las Salas and Gary Jackson were holding a wedding ceremony in Centennial Park in Coronado, California when it was interrupted by a man in a nearby building shouting "go home fags" and other anti-gay slurs.
The incident prompted an apology from the city of Coronado and the condo complex's Home Owner's Association as well as an investigation by police.
Local residents and merchants who were also disturbed by the heckling banded together to organize a "do-over" wedding for the gay couple yesterday. The ceremony, organized by Coronado attorney Alisa Kerr and officiated by Mayor Casey Tanaka, ended up being a beautiful display of love in the face of hate.  
U-T San Diego reports:
The ceremony came off absent heckles or other such distractions.
The guests mostly included those who donated one gift or another and others who contacted Kerr and her friends with offers to help. It mattered little that they did not actually know the couple.
"I came because of the synergy they created with the attempt to turn this around," said Rob Crenshaw, who brought his wife, Laura, to the party. "A wedding is supposed to be the happiest event of your life."
Jackson and de Las Salas brought about 25 friends who were unable to make the August affair.
"We're two men in love," de Las Salas said. "That's all."
More photos and video of the ceremony, AFTER THE JUMP…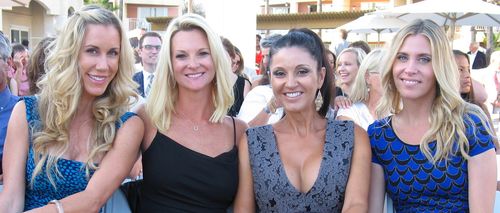 The organizers of the "do over" wedding – Alisa Kerr, Rita Alipour, Kate Blumenthal and Cerissa Kieffer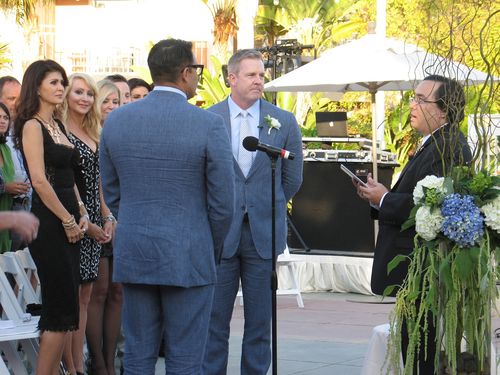 (Photos courtesy of Rex Wockner)