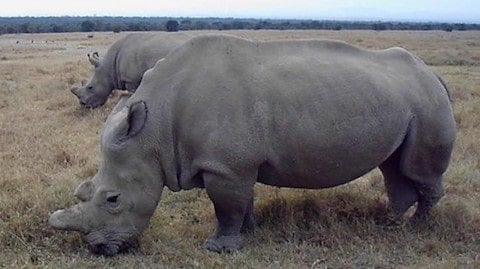 Suni was a 34-year-old northern white rhino living in Kenya died last week at the wildlife conservancy where he lived. The cause of death is presently unknown, but for once poaching is not suspected. However, Suni was one of the last two breeding males
The Ol Pejeta Conservancy released a statement saying that they will do what they can to work with the remaining animals that hopefully will result in the birth of a calf.
Thanks to insane levels of poaching of the animal's horn, which was ground up and sold to suckers in Asia for snake oil treatments for conditions such as seizures, fevers, strokes, and nosebleeds, the northern white rhino is officially considered "Extinct in the Wild." Now, it's one step closer to just "Extinct."