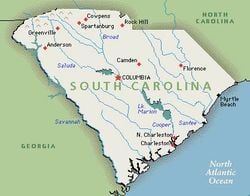 A summary judgement challenge to South Carolina's gay marriage ban filed by Lambda Legal on behalf of two Charleston women could be decided early next month after a federal judge denied South Carolina's request for extra time to file responses, The Post and Courier reports:
During a conversation in court Friday with attorneys on both sides, Gergel denied a verbal request from a state Attorney General lawyer to extend by three days a Nov. 3 deadline to file responses to the couple's injunction request.
"The plaintiff in this case has asserted irreparable injury" due to being denied a marriage license, Gergel said.
"They are entitled to an expeditious review," he added.
Beth Littrell, Senior Attorney in Lambda Legal's Southern Regional Office based in Atlanta, said:
There is no reason why South Carolinians should be denied the freedom to marry one more day. The Fourth Circuit's decision is binding on South Carolina and Governor Haley and Attorney General Wilson should not be allowed to continue to ignore the rule of law. There really is only one legal and logical result–we're urging the court to allow same-sex couples in South Carolina to marry without any further delay.
A separate lawsuit challenging the state's ban on same-sex marriage was filed earlier this week. 
South Carolina remains the only state under the Fourth Circuit's jurisdiction to not have marriage equality.