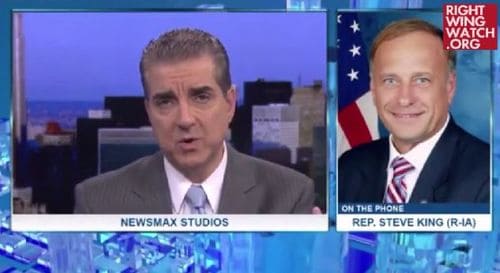 After suggesting earlier this week that he wouldn't be meeting any gay people at the pearly gates in the afterlife, Iowa Rep. Steve King attempted to clarify his remarks in right-wing fashion – claiming they were "fabricated" by the media…but that he still stood by them.
Said King to Newsmax host Steve Malzberg:
"What I said was it's between them and God. And I said what was a sin 2,000 years ago is a sin today. That was what I said. And I stand on what I said, and they've manufactured this and so maybe I won't meet the people that distort the truth in the next life either and I'm going to do my best to get to Heaven."
First gays, now journalists…maybe next week King can condemn to hell all those immigration activists who get on his nerves. 
Watch, AFTER THE JUMP…
[via Right Wing Watch]