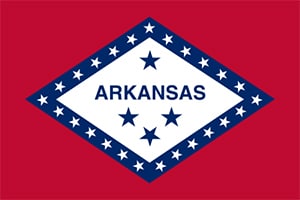 A federal judge in Arkansas has set November 20 as the day he will hear arguments concerning a challenge to the state's gay marriage ban. The AP reports:
U.S. District Judge Kristine Baker on Monday scheduled a Nov. 20 hearing over competing motions in the lawsuit challenging a 2004 constitutional amendment and earlier laws defining marriage as between a man and a woman. A group of same-sex couples is challenging the ban.
The hearing will be on the couples' motion for summary judgment in the case, and on a separate motion by the state seeking to dismiss the lawsuit.
The state Supreme Court is considering a separate case regarding the gay marriage ban. The state appealed a Pulaski County judge's ruling against the ban, which led to hundreds of same-sex marriages. The judge's order was suspended while it's on appeal.
As the AP notes, the first same-sex marriages in Arkansas began this past May but shortly thereafter were halted by the state's Supreme Court. Meanwhile, the state and its Attorney General remain invested in keeping the marriage ban in place.