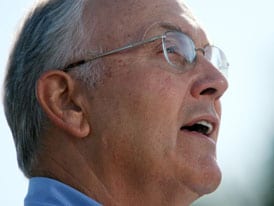 On Tuesday, a federal judge ordered former senator Larry Craig (R-Idaho) to pay the U.S. treasury $242,000 for improper use of campaign funds.
This news is the latest in a long, sad, and winding road for Craig in the aftermath of his 2007 scandal. Things have been messy not just in the legal procedings after the stall ("wide stance") incident, but also with the revelation that Craig used campaign funds to pay for his legal defense. On this front, trouble has been brewing for the Senator over the last two years. Craig's attorneys previously argued that he was entitled to use the money, given that he was in the airport on "official business."
Looks like this arguement has not held up so well. Via The Washington Post, here is a quote on the matter from U.S. District Judge Amy Berman Jackson:
The Court finds that defendants violated the FECA when they converted campaign funds to pay for legal expenses related to Senator Craig's efforts to withdraw his guilty plea, which was a personal matter that was not connected to the Senator's duties as an officeholder.
Also check out the The Washington Post's recreation of the stall incident, filmed at the actual scene of the "crime", AFTER THE JUMP…