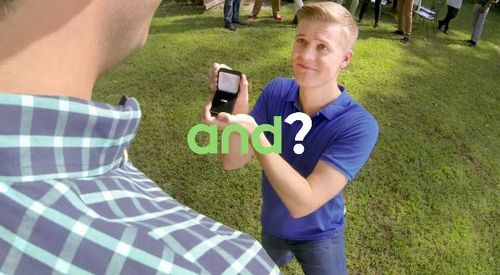 Google is rolling out the latest version of its popular Android operating system codenamed "Lollipop" along with a new tagline: "Android: Be Together. Not The Same."
The tagline is a direct response to competitors who have criticized the the company's phone OS for being fragmented. In a new ad for Android, however, Google is owning that technological diversity and translating it into real world metaphors.
"Good things happen when everybody's invited," Google SVP of Android and apps Sundai Pichai wrote in a blog post. "And the best part is that every time someone new joins in, things get more interesting, unexpected, and wonderful for all of us."
The ad, which is composed mainly of crowdsourced footage from YouTube, features Alex Unick proposing to his fiancée Zach Udko. Though the clip of the proposal is quick, it's a visible continuation of Google's commitment to LGBT-inclusive advertisement. Last year, Mountain View-based company reached across the globe to help gay and lesbian couples in France and Chile get married by connecting them to a Belgian mayor who would officiate their weddings via Google Hangout.
Watch Google's newest LGBT-inclusive ad AFTER THE JUMP…