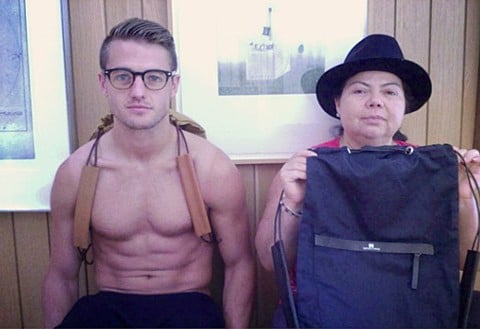 Out L.A. Galaxy player Robbie Rogers showed off his new backpack on Instagram in the best way possible this week.
Also, in this week's guy candy:
Russell Tovey, Ricky Martin, Alex Minsky, Brad Goreski, Scott Eastwood, Tom Daley, Flume and Chet Faker, Derrick Gordon, Harry Shum Jr., Tony Goldwyn, Dan Savage, Terry Miller, Darryl Stephens, Rory McIlroy, Jake Shears, Gilles Marini, Dan Osborne (below), Blake Skjellerup, and the Flaunt flavor of the week, Nick Jonas.
Enjoy, AFTER THE JUMP…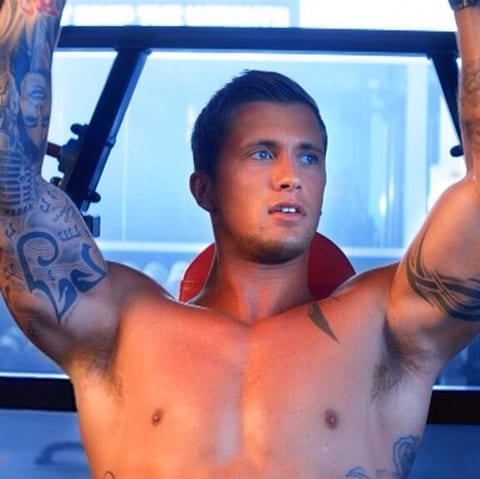 Russell Tovey took us sightseeing:
"Look at that view 😉 #sanFrancisco #looking #hbo #tourist #goldengatebridge #hike"
Ricky Martin had a hard time sleeping so he decided to take a bed selfie:
"Ok one oh those nights i cant sleep and i try counting sheeps but my ADD kicks in. One sheep, two sheep, 3sheeps, a goat, a cow, a pig, Old McDonald had a farm Heeeeyyy MACARENA" wtf?"
Scott Eastwood starts his mornings with some caffeine:
"Thanks for the coffee cup #UTA. Going to the gym. Time to start the day!!"
Out UMass basketball player Derrick Gordon is fit to play, as are his shorts:
"The GRIND doesn't stop!!!! #Betrue #UMassNation #SeasonAlmostHere"
Tom Daley is building some muscle:
"Werkin on dem guns 🔫🔫🔫 (they need work haha)"
Australian electronica maestro Chet Faker and fellow producer and DJ Flume made beautiful music together in the surf:
"Slipped over and this photo happened @chetfaker #albumart pic @marshalldreams"
Harry Shum Jr is recovering:
"Wire burn! Temporary tat for a few weeks. #CTHD2 #effectsofflying"
Scott Foley shot a photo of his Scandal co-star Tony Goldwyn making fun of Foley's shirtless 'Charisma' luxury sheet ads:
"Thanks @Tonygoldwyn for making sure I'm not the only shirtless guy holding a dog. IOU!"
Nick Jonas and his abs got a cover story:
"Check out my cover for @flauntmagazine at flaunt.com! Full feature out later this week!"
Check out the rest of the photos HERE.
Pro golfer Rory McIlroy got into a wig and a kilt after dominating in the Ryder Cup:
"Got into the Scottish swing of things last night with Stevie G! 🙈🎉🎊"
Speed skater Blake Skjellerup and his hubby slipped into something to show a little leg:
"Feeling very comfortable and risky business in the latest collection of @jockeyinternational undergear sent over by our friends at @gqreport #supportinggreatness"
Dan Osborne showed off a still of himself from a new ad for The Only Way Is Essex (TOWIE) in which he's seen pumping some iron:
"Me on the new ITVbe advert!!"
And soccer pro Robbie Rogers has a sexy way of showing admiration for a bag company:
"Two of the most talented creative people I know @hausofshim @natepoekert. Ana & I love @properassembly #WhatWeCarry"
Darryl Stephens reminisced about Noah's Arc:
"@scottpookie1975 just tweeted this shot… And I feel like I'm seeing it for the first time. The way Wade is coming out of the darkness to embrace Noah, who is facing away but unable to resist looking back. It's really kind of an iconic representation of their relationship. The shadows, the brown shoulders, the kinky hair, the shy eyes and subtle smiles. Anthony (photog) captured some magic here… #tbt #noahsarc "
Dan Savage and his husband Terry Miller locked lips:
"#mwah. Believe it or not that took three takes. 😐💋"
Gilles Marini relaxed in South Beach:
"Loving my #MiamiBeach chilling time. Life's good 😉 Have a great weekend guys!"
Jake Shears popped his surfing cherry:
"Had an awesome time surfing yesterday for the first time thanks to @chrismilleroxo 🏄"
Alex Minsky and you could play beautiful music together:
"One of the shots last week with @carinamm Thank you so much Carina you're one of the best ❤️ #martinguitar"
Brad Goreski showed off some new, er, trousers:
"I love these @ralphlauren jeans so much, it's hard to take them off. #selfie #fashion"