Marriage equality is already the law of the land in Idaho, thanks to the Ninth Circuit's mandate striking down the state's ban on same-sex marriage. But you wouldn't know that listening to Governor Butch Otter, who continues to treat the courtroom battle over gay marriage as a winnable campaign issue.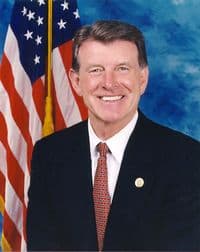 At a gubernatorial debate last night, Otter declared he's "not ready to surrender to a few folks in black robes," The Huffington Post reports:
When Idaho adopted a constitutional amendment in 2006 banning same-sex marriage, "those people were voting for a value that they had and they were expressing that," he said.
A.J. Balukoff, the Democratic gubernatorial nominee, said Otter was fighting "a losing battle."
"At this point, the ship has sailed," Balukoff said. "You're not going to win that battle in federal court. You might as well start arguing about interracial marriage."
Last week, we reported Otter had filed a long-shot petition asking the full Ninth Circuit to re-hear the case challenging the state's gay marriage ban.
Curiously enough, the Associated Press adds Otter voiced support for extending non-discrimination protections to LGBT citizens should such a bill come to his desk. 
Although he voiced some reservations, Otter said he would sign legislation that would add the words "sexual orientation" and "gender identity" to Idaho's Human Rights Act. Currently, same-sex couples may marry in Idaho but there is no legal protection if they are fired or kicked out of their homes.
Otter said there would be a hearing during the 2015 legislative session. However, it's ultimately up to state lawmakers to pass the bill.