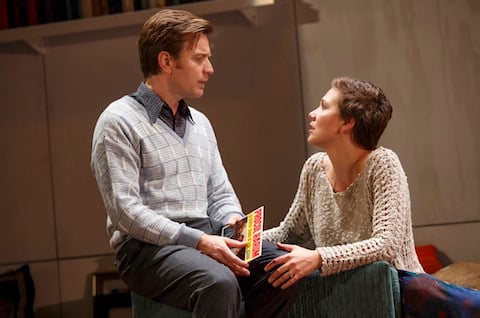 BY NAVEEN KUMAR
Equal parts cerebral and sexy, Tom Stoppard's 1982 play about love, deception and the limits of fiction gets a chic, starry revival from Roundabout Theatre Company at the American Airlines theatre, where it opened on Broadway last night. With ace performances from the cast, director Sam Gold's production anchors the lofty intellectual tangents of Stoppard's writing in grounded, emotional drama.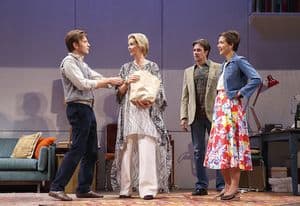 The opening scene shows a wife, Charlotte (Cynthia Nixon) returning home from a business trip to her drunk, jealous husband, Max (Josh Hamilton). She's gone from London to Switzerland without her passport, Max discovers, leading him to conclude she's cheating. The following scene reveals the first is from a play in which Charlotte and Max are performing—Charlotte is married to the playwright Henry (Ewan McGregor) and Max and his wife Annie (Maggie Gyllenhaal), also an actress, are close friends of the couple.
When Henry and Annie are left alone, we learn they're having an affair and by the play's more engrossing second act, the two have left their spouses and married each other. Much of the play is concerned with the nature of romantic love, the fallacy of monogamy and the challenges of writing. Henry is widely accepted as a stand-in for Stoppard as they share many parallels, including Stoppard's relationship with a married woman, the actress who played Annie in the play's original production.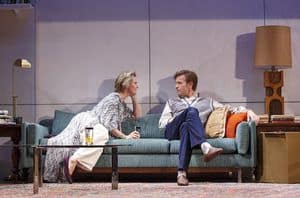 Making a bold (and impressively verbose) Broadway debut, McGregor does fine work making clear sense of Stoppard's dense, heady dialogue, and the mischievous charm for which he's known on-screen perfectly suits gallantly vain Henry. Ms. Gyllenhaal likewise makes a radiant Broadway debut as Annie, her easy sex appeal and unwavering poise a formidable match for her indomitable lover. Nixon, a stage vet who originated the role of Debbie (Charlotte and Henry's daughter) in the play's first Broadway production, gives an assured performance as sharp, unflappable Charlotte.
Some 30 years on, Stoppard's play could easily be set in the present, but the design team's nod to early 80s London style gives the production its seductive angles and textures, including a dynamic set by David Zinn, enviable costumes by Kaye Voyce and lighting by Mark Barton. 
Music is also central to the play, and Gold brings it to the fore with company sing-alongs during transitions between scenes. The device feels gimmicky in a play already chock-full of myriad ideas, but it's one Henry would probably love. 
Recent theatre reviews…
Straight Couples Adrift on Fire Island in Terrence McNally's 'Lips Together, Teeth Apart': REVIEW
Josh Radnor, Gretchen Mol Open in Pulitzer Prize-Winning 'Disgraced' on Broadway: REVIEW
Matthew Broderick, Nathan Lane and Stockard Channing Open in 'It's Only a Play' on Broadway: REVIEW
'The Curious Incident of the Dog in the Night-Time' Opens on Broadway: REVIEW
Political Sex Scandal Comedy 'Tail! Spin!' Opens Off Broadway: REVIEW
Follow Naveen Kumar on Twitter: @Mr_NaveenKumar (photos: joan marcus)