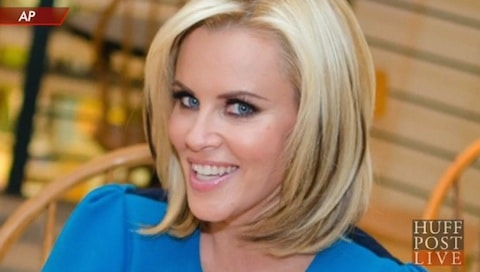 Former Playboy bunny and The View host Jenny McCarthy opened up in an interview with Pride Source recently, and the results were unexpected to say the least. The model-actress, who has a 12-year-old son and recently married Donnie Wahlberg, was first asked about her acting career. As Us Weekly reports, one early role may have been particularly important for McCarthy to play.
It all started when the blonde was asked about playing a transgender woman in '90s sitcom Just Shoot Me! "I feel like that inside. I always felt like one of the guys wearing, like, a Playboy bunny outfit," [McCarthy] admitted. "I was David Spade's buddy to begin with, so I was a natural fit, and I always felt like his brother. To play kind of the dude, was almost too scary natural," she added of starring alongside Spade in the series.
One wonders if McCarthy considers herself a tomboy or truly does feel akin to a transgender person, as a male gendered person who has been assigned a female sex. It is, of course, no one's place to judge.
It may be easier, however, to roll your eyes at the somewhat dated and stereotypical answer she gave later on in the interview:
The former Playboy model was also asked how she'd feel if her 12-year-old son Evan came out as gay. "Oh my god, I would be so excited," she exclaimed. "We can shop! Do my hair!"
Right, because that's what every gay boy likes to do! But at least McCarthy thinks that everyone might be a little bit gay:
"I really do feel like, with sexuality being more open and people coming out, there might be a little bi in everybody; it's just a matter of who acts on it."