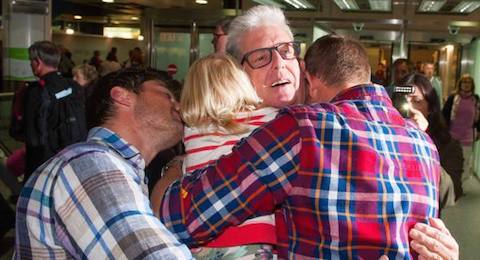 About two weeks ago we told you about Ray Cole, a 69-year-old Briton from Kent, who had gone missing in Marrakesh, Morocco, only for his family to discover that he and his partner, Jamal Jam Wad Nass, had been imprisoned on charges of homosexuality, which is illegal in the country. Though sentenced to four months, Cole has been released after 19 days and compared the experience to being in a concentration camp, calling it "hell on earth" and was genuinely frightened that he would "disappear into the system."
In a new video at The Guardian, Cole expands further on his experience:
The stench from the toilet, you would not believe; it will live with me forever[…]There's screaming and banging on the bars and banging on the doors. There's no peace there whatsoever 24-hours a day[…]I was worried that they'd hurt Jamal. I was fairly confident they wouldn't hurt me as a European, but I really was worried about him because they don't have any compunction about beating up their own.
Predictably, the plainclothes officers that arrested Ray and Jamal used their religion as justification for the arrest and their hateful actions. Jamal remains in prison, and Ray is working to get asylum for his partner and bring him to the UK.
The unembeddable video can be seen at The Guardian.