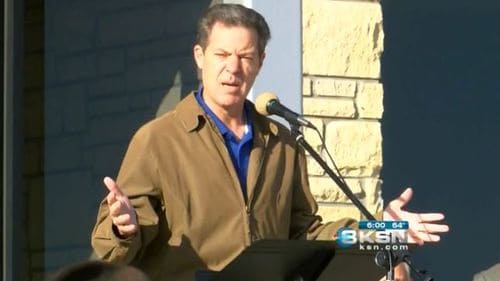 Kansas Governor Sam Brownback joined some 100 rally-goers in Wichita on Saturday in opposition to gay marriage and in support of the state's voter-approved anti-gay constitutional amendment. 
Back in 2005, a referendum stating marriage "shall be constituted by one man and one woman only" was approved by 70% of state voters.
The Wichita Eagle reports:
"The state of Kansas has voted on this, the people of Kansas have voted on this," he said. "We need to keep pushing those issues and keep surging … surge forward into the election cycle."
Brownback also used the rally — billed by the FRC as a "Standing for the American Family and Traditional Marriage" event — to marshal conservative voters for the November election.
"We need to push forward our candidates that stand for this country, that stand for faith, that stand for family, that stand for freedom," he said. "This faith, family, freedom, that's the name of the bus," Brownback said, motioning toward a bus the FRC had decorated as part of its whistle-stop tour. "It's also the name of the basic American philosophy, guys. The motto of the nation remains, 'In God we trust.'"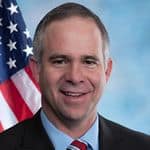 In addition to Brownback, there were brief speeches by a number of other people, including Josh Duggar of TLC's "19 Kids & Counting" reality TV show and 1st District U.S. Rep. Tim Huelskamp, R-Fowler, who described judicial intervention in the same-sex marriage issue as a battle, and "the battle is on," he said.
Earlier this month, Huelskamp [pictured right] was rated one of the 19 "most anti-equality" members of Congress by the HRC.  
Watch a KSN news report on the rally and the dozen or so counter-protesters who showed up to voice support for LGBT rights, AFTER THE JUMP…
Kansas falls under the Tenth Circuit Court of Appeals, which has already ruled Utah's same sex marriage ban unconstitutional. One same-sex marriage licenses has already been issued, but additional marriages have been placed on temporary hold by the state Supreme Court while it considers whether the state's gay marriage ban is unconstitutional. A hearing in the case is set for November 6.