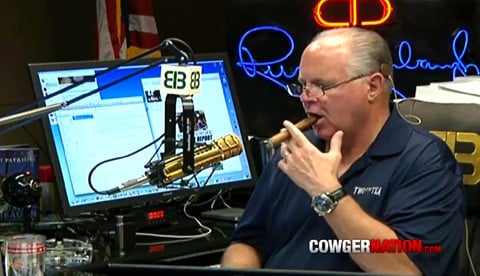 On Rush Limbaugh's radio program today, the right-wing blowhard called for an "entire shift in national attitude" and blamed the Democratic Party's 'all out assault' on marriage, religion, science, and education as the root cause of our nation's "angst."
Said Limbaugh:
Standards have deteriorated, morality is no longer allowed to be defined or used. Nobody is allowed to pass judgement on what's obviously right or wrong. There's no foundation, there aren't any guardrails anymore…it's no wonder people who are rooted in the great traditions and institutions of this country may think they are crumbling, because they're routinely assaulted – they, the people, and the institutions. 
Limbaugh, for those still counting, is currently on his fourth marriage. He's also previously asserted that "if you believe in God, you can't believe in manmade global warming."
Listen, AFTER THE JUMP…