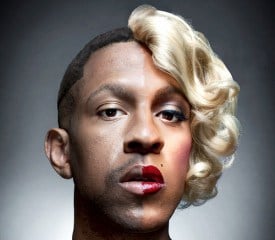 Yesterday Mykki Blanco spoke with Entertainment Weekly to promote her new album, Gay Dog Food, which drops today.
In the interview, Blanco describes the album as "gross," and she characterizes sound as "like it's coming out of white noise." She compares the "crunchy" sound to an "air conditioning unit and a blender," and she says her "more pensive and feminine" energy is the yin to the yang of known acts with similar sounds — such as Death Grips, System of a Down, Limp Bizkit.
Blanco talks sexuality, too. On the one hand, being gay means her work is often given less credit. Blanco remembers a particular anecdote:
To be honest I remember when my song "Haze.Boogie.Life" came on a friend—he didn't say this to make me feel bad, it was just the f–king truth—he was like, you have one of the hottest f–king songs right now, but because you're a gay rapper, people are trying to turn a blind eye toward it. If Lil Wayne or somebody came out with this song, it would be on the radio.
She also is annoyed by the labels she is given, saying she finds it "stupid" if a listener hears her new album and still wants to just put her in the simple box of "gay rapper."
Check out the artist's SoundCloud here.