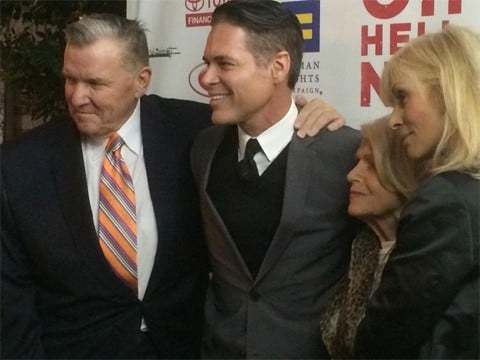 (David Mixner, Point Foundation Executive Director Jorge Valencia, DOMA plaintiff Edie Windsor, and actress Judith Light outside New World Stages theater: twitter the point foundation)
Political luminaries, LGBT personalities, and friends ranging from DOMA plaintiff Edie Windsor to White House Social Secretary Jeremy Bernard filled the audience at New World Stages in New York City last night for Oh Hell No!, a night of engaging, often humorous storytelling and occasionally shocking remembrances from career activist and political firebrand David Mixner (also a friend and a contributor to this site) who in the past year has been to death's door and back, surviving a critical health scare in February. The show benefited The Point Foundation and raised more than $175,000 for the organization, which enables deserving LGBT students with scholarships and financial aid.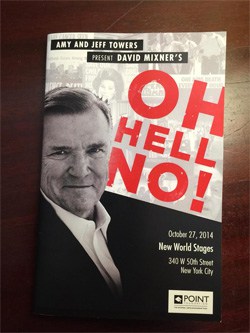 Mixner's show (previewed in an interview I did earlier this week) took listeners on an emotional "personal journey…as [he] remember[s] it" in three parts. In addition to describing the formation of the nation's first LGBT political PAC MECLA (Municipal Elections Committee of Los Angeles) the first portion recounted his work at the time of Anita Bryant's well-known anti-gay crusade in 1978 to defeat California's Briggs Initiative, which would have put teachers in public schools on trial if they were accused of being gay. The successful routing of this awful piece of legislation involved a turning-point meeting with then Governor Ronald Reagan during which Mixner says he and a group of activists convinced Reagan that the legislation would lead to "anarchy" when any kid with a poor grade could simply take revenge by accusing their teacher of being gay.
The second part of Oh Hell No! descended into the dark, early days of the AIDS crisis describing how the Los Angeles community worked, Dallas Buyers Club-style, to shuttle illegal yet necessary drugs from Mexico. It also hit its emotional peak when Mixner, describing the horrific experience of seeing dozens of friends and loved ones "go into the hospital on Friday and die on Monday," confessed he and others, aided by allied medical professionals, were part of an underground euthanasia network – which helped gay men fill their requests to die when there was no hope left.
In part three, Mixner delivered a tough rebuke of President Bill Clinton's decisions to sign DOMA and implement the "Don't Ask, Don't Tell" policy after breaking a promise to his longtime friend and confidante that one of his first acts as President would be to sign an executive order that would have allowed gays to serve openly in the military. The rift climaxed in Mixner's well-known and highly publicized arrest (with more than two dozen others) in front of the White House and a humiliating Advocate cover story in which the magazine declared him "Friend of Nobody". But the power of this portion of Oh Hell No! – as in the others – was delivered in the nuance. One portion of the White House arrest story that many may not have heard – told with a signature flourish of wit and innuendo – involved the cop who arrested him.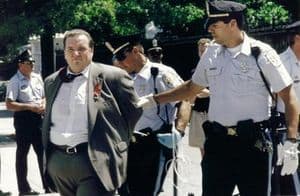 Mixner says he demanded, jokingly, to his fellow arrestees, that he be arrested by the most attractive young cop in the group (seen directly behind him in this photo). But he didn't know what was coming. As Mixner was pushed into the police wagon, the cop whispered "Thank you, Mr. Mixner. My brother is gay." And also ran the paddy wagon siren (against White House rules) so that Clinton could hear the arrestees being driven away to jail.
Offered as an evening of entertainment and interspersed with musical performances by Will Reynolds, Sarah, Uriarte Berry, Megan Osterhaus, and Christopher Bolan serving to bridge its various sections, Oh Hell No!, as Mixner reminded those watching and wrote in the show's program, is a reminder that history "is an elusive animal…open to interpretation and revisionism."
"This evening I am telling stories from my personal journey," he added. "There are dozens, no thousands, of others who have given more or deserve more recognition. I hope I have somehow honored them…"
If we're lucky, the show, which was directed by Stephen Brackett and musically directed by Mat Eisenstein and deserves to be seen by a wide audience, will make it to video and/or broadcast.
Among those taking in the sold-out 90-minute show were Chairman and President of the Export-Import Bank Fred Hochberg, DNC treasurer Andy Tobias, Pennsylvania Rep. Brian Sims, NYC Councilman Corey Johnson, Jane and Joe Clementi – the parents of the late Rutgers student Tyler Clementi, presenters Amy and Jeff Towers, MSNBC's Thomas Roberts, political consultant Bob Shrum and Marylouise Oates, photographer Nigel Barker, actor Alan Cumming, Athlete Ally's Hudson Taylor, political consultant and pundit Hilary Rosen, producer Bruce Cohen, actor Rory O'Malley, Broadway producer Hal Luftig, ESPN contributor LZ Granderson, author and blogger Kenneth Walsh, and actress Judith Light, a board member of the Point Foundation, who offered a gracious, poignant, and humorous introduction.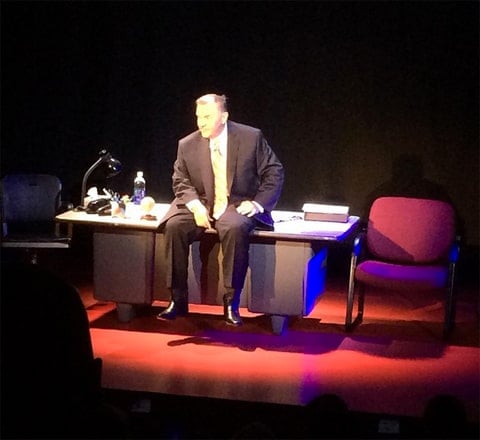 (instagram mileage)