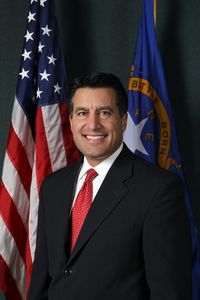 Nevada Governor Brian Sandoval has pledged to oppose the anti-gay Coalition for the Protection of Marriage's efforts to get the Ninth Circuit to grant a full re-hearing of the challenge to the state's same-sex marriage ban, the AP reports:
The Republican governor provided a quick answer Wednesday to an appeals court call for briefs within three weeks from the state and an advocacy group that won the right to gay marriage on behalf of eight Nevada same-sex couples.
Sandoval, who previously stated he believes marriage is between one man and one woman, has been supportive of the Ninth Circuit's pro-equality ruling, saying it "confirmed my previous position that the State's arguments against same sex marriage are no longer defensible in court."
Now how about going after those pious wedding chapels in Vegas that continue discriminating against gay couples?