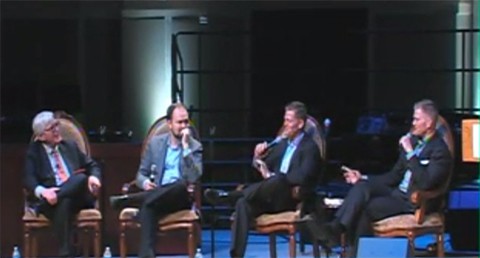 Conservative New York Times columnist Ross Douthat recently joined the anti-gay Benham Brothers as speaking guests at a fundraiser for the Alliance Defending Freedom (ADF), a vocally anti-gay group that, as Media Matters points out, "works to defend anti-LGBT discrimination and supported the criminalization of homosexuality." The event took place on October 16 in Denton, Texas and explored the alleged friction between "LGBT equality religious liberty":
The event touched on a number of popular right-wing horror stories about LGBT equality, from the plight of anti-gay bakers and florists, to the outrage over the recent subpoenaing of several Houston pastors. David Benham, who has previously warned that the gay "agenda" is "attacking the nation," urged the audience to take "dominion" of the media and legal system back from the "sexual anarchy agenda":
You'll recall the Benham Brothers lost their HGTV reality show because of anti-gay and xenophobic remarks they made in the past. The pair have also recently compared themselves to the victims of ISIS' beheadings because their show was cancelled due to their extremist statements and views. 
Noted activist and columnist Dan Savage highlighted Douthat's presence at the event on Twitter, drawing attention to ADF's advocacy for the criminalization of homosexuality and making reference to prominent out gay journalists public personas:
"Nice friends you've got, @DouthatNYT. So who would you like to see jailed first: @sullydish, @jbarro or @JoeMyGod? Or maybe @DouthatNYT would prefer to see lesbians jailed first? Maybe @TheEllenShow, @ejgraff, and @Rosie could all share a cell, Ross?" 
Nice friends you've got, @DouthatNYT. So who would you like to see jailed first: @sullydish, @jbarro or @JoeMyGod? http://t.co/xfaLnaIR4S

— Dan Savage (@fakedansavage) October 21, 2014
Or maybe @DouthatNYT would prefer to see lesbians jailed first? Maybe @TheEllenShow, @ejgraff, and @Rosie could all share a cell, Ross?

— Dan Savage (@fakedansavage) October 21, 2014
Watch a video from the event where David Benham discusses the "sexual anarchy agenda", AFTER THE JUMP…