Katy Perry will reportedly be the halftime performance during next year's Super Bowl. 
Ben Cohen serves up some centerfold smoulder for his 2015 calendar.
Will Martin Feldman, the U.S. District judge who upheld Louisiana's gay marriage ban last month, go down in history as the last judge to write an anti-gay marriage ruling?
Gay GOP House candidate Carl DeMaio is denying accusations that he sexually harassed, intimidated, and attempted to bribe a former campaign staffer. 
Aries Spears says he has nothing to apologize for for joking on ESPN that Michael Sam's jersey had "15 S's on the back"
Malala Yousafzai of Pakistan has become the first Pakistani and youngest recipient of the Nobel Peace Prize. Yousafzai will split the award with Kailash Satyarthi, an Indian man who has worked to end child labor and free children from human trafficking. 
Missouri state GOP leaders may take up defending the state's gay marriage ban after AG Chris Koster announced he wouldn't appeal a recent decision ordering the state to recognize out-of-state gay marriages. 
Ryan Murphy says he's "optimistic" Neil Patrick Harris will join American Horror Story: Freak Show later this season.
Angelina Jolie receives honorary damehood by Queen Elizabeth II for her work with the UN combating war zone sexual violence.  
More details are coming in about that infamous Alaska brawl involving the Palin clan. 
Singer Jessie J regrets calling her bisexuality a "phase" – "I'm a talker; I wear my heart on my sleeve. But sometimes I just have to know when to shut up"
John Kerry warns time is running out for real action on climate change. 
Amazon has plans to open its first brick-and-mortar store – set to open in Manhattan.
The U.S. has granted asylum to Ugandan LGBT advocate Nikilas Mawanda. 
 Mississippi State Representative Andy Gipson knows the tide is turning: "I am opposed to same-sex marriage, but I believe the time has come for people of faith in Mississippi to prepare for the overturning of our constitutional ban on it."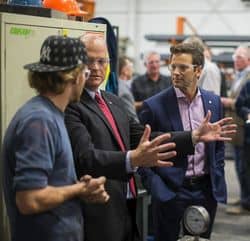 Rep. Aaron Schock is traveling all across the country to help elect House GOP candidates. 
Benedict Cumberbatch and Keira Knightley looked positively smashing at the London premiere of The Imitation Game earlier this week. 
Courts have rejected voter ID laws in both Wisconsin and Texas, with U.S. District Judge Nelva Gonzales Ramos ruling that the Texas law "creates an unconstitutional burden on the right to vote, has an impermissible discriminatory effect against Hispanics and African-Americans, and was imposed with an unconstitutional discriminatory purpose." 
The New York Times dives into the crackdown on gay men in Egypt - a story we've covered multiple times here before.