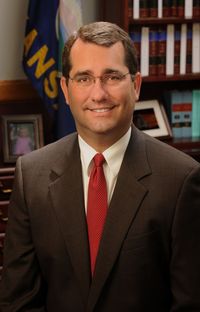 Kansas Attorney General Derek Schmidt has asked the state Supreme Court to stop gay marriages from taking place in Johnson County – the state's most populous county.  
At least one marriage license has been issued to a same-sex couple since a district judge ordered the Johnson County District Court clerk's office to begin issuing marriage licenses to gay couples on Wednesday.
Buzzfeed reports:
"The Johnson County Court's decision is an outlier," Schmidt said in a statement accompanying his filing. "Numerous other Kansas Courts have concluded, as I have, that the law in Kansas remains unchanged and same-sex marriage remains unlawful unless and until a Court of competent jurisdiction, deciding a properly presented case or controversy, holds otherwise as a matter of federal constitutional law. Because that has not happened, I have concluded the Judge's decision to order the issuance of licenses is unlawful and I now have no choice but to ask the Kansas Supreme Court to set it aside."
Kansas falls under the Tenth Circuit Court of Appeals, which has already ruled Utah's same sex marriage ban unconstitutional. 
Developing…