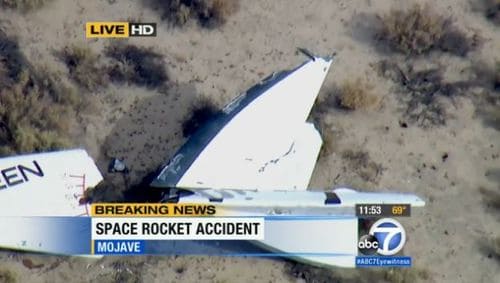 Virgin Galactic's SpaceShipTwo rocket plane exploded and crashed during a test flight over California's Mojave Desert this afternoon, NBC News reports: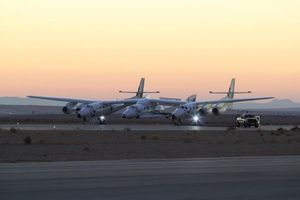 The explosion scattered debris across a two-mile swath of the desert floor outside Mojave, California, and came after the plane was released from its WhiteKnightTwo carrier airplane. SpaceShipTwo was testing its rocket engine in flight for the first time in more than nine months.
"During the test, the vehicle suffered a serious anomaly resulting in the loss of the vehicle," Virgin Galactic said in a statement. "The WhiteKnightTwo carrier aircraft landed safely. Our first concern is the status of the pilots."
Jesse Borne, an officer at the California Highway Patrol, told NBC News that there was one fatality and one major injury.
TechCrunch adds:
SpaceShipTwo was designed primarily for space tourism, meant to carry passengers high enough to experience near-weightlessness for roughly $200,000 per ticket. This was a test flight, however, so no passengers are believed to have been onboard.
Watch a ABC Los Angeles report on the developing story, AFTER THE JUMP…
[bottom photo via Twitter]