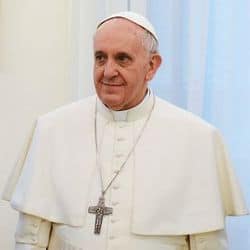 Though still officially opposed to homosexuality, the Catholic Church's opinions of LGBT people is slowly evolving to align with the opinions of its followers. In June the Pew Research Center found that an overwhelming majority of Catholics–85%–between the ages of 18 and 29 felt that homosexuality should be socially acceptable. Catholics above the age of 65 were less supportive, but a 57% majority also reported that being gay should be accepted by general society.
A two-week long synod of Catholic bishops convened by Pope Francis has resulted in the drafting of a theological document arguing for wider acceptance of gays by the church. In it gay people are described as having "gifts and qualities to offer to the Christian community." The document also acknowledges the fundamental love and intimacy that exists within committed gay relationships.
Drafted by a committee selected by Francis, the preliminary draft will be circulated both amongst synod participants and throughout the Catholic community for debate, revision, and review. In the past, similar documented shifts in position have resulted in long lasting change in church ideology. Many attendees of the gathering are likening it to The Second Vatican Council–a synod that redefined the Church's relationship to other religions.
"A large number of bishops do not accept the ideas of openness, but few know that," said Raymond Leo Burke, a conservative American cardinal working within the vatican. "[Many] are supporting the possibility of adopting a practice that deviates from the truth of the faith."
Those opposing the document's pro-LGBT stance have been quick to point out that it is more of working reference paper rather than a steadfast decree. In addition to a softening position towards gays, the document debates how the church should treat separated, but not divorced couples. It also condemns making financial aid contingent on ideological congruity between nation states, as the US has done to certain countries with oppressive anti-gay laws.
Read the full translated document AFTER THE JUMP…
Eleventh General Assembly: "Relatio post disceptationem" of the General Rapporteur