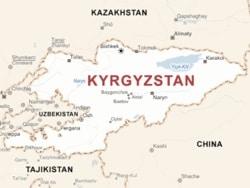 Lawmakers in Kyrgyzstan have voted overwhelmingly in favor of a Russian-style ban on the promotion of positive attitudes towards "non-traditional sexual relations," Eurasianet reports:
The bill, which passed its first reading 79 to 7, will need to pass two more readings before the bill goes to Russian ally President Almazbek Atambayev for his signature. 
One of the bill's authors, Kurmanbek Dyikanbayev, often sounds as if he is repeating Kremlin talking points. Dyikanbayev told Radio Azattyk last week that he sponsored the bill to protect Kyrgyzstan's "traditional families." He also blames Western democracy for moral degeneracy and for encouraging homosexuality.
 
Bishkek-based LGBT-rights organization Labrys, whose advocacy would be outlawed by the bill, notes that the legislation contradicts numerous human-rights provisions in Kyrgyzstan's constitution. Nika Yuryeva of Labrys said she fears the bill will encourage more violence against the LGBT community.
The U.S. embassy in Kyrgyzstan released a statement earlier this week denouncing the bill:
"No one should be silenced or imprisoned because of who they are or whom they love. Laws that discriminate against one group of people threaten the fundamental rights of all people."
Back in January, Human Rights Watch published a disturbing report about police extortion and torture of gay men in the central Asian nation.