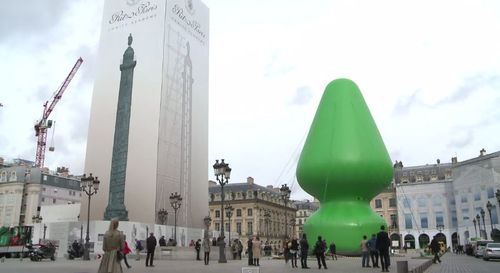 Paul McCarthy's latest inflatable art installation Tree has been erected in Place Vendome, one of Paris's historic squares located within the 1st arrondissement. Affixed to the ground with a system of ropes and anchors, Tree is a gargantuan, minimalist take on a Christmas tree that evokes images of…Rockefeller Center. Also bounce houses.
The iconic figure is a part of  a larger Parisian survey that McCarthy' is calling "Chocolate Factory." The entire installation is serving as the centerpiece of the International Contemporary Art Fair. Timed to coincide with the grand reopening of the Monnaie de Paris (Paris Mint), "Chocolate Factory" focuses on the intersection between mass production, consumption, and hedonism. As a part of the larger, festive project factory workers will produce thousands of chocolate Santa Claus figurines holding miniature versions of Tree.
Chiara Parisi, head of the Monnaie de Paris's cultural outreach, described McCarthy's work as a dream that has entered the public space.
"This tree is like a giant fantasy; in the French tradition, it's a fantastical work," she said. "It's oversized, it can be analyzed from different angles. It needs that kind of ambiguity too."
Printemps Francais, an anti-gay hate group known for their vociferous hatred of modern art took to Twitter to decry the Monnaie for what they perceive as a waste of public funds. What Printemps Francais has against McCarthy for his work isn't exactly clear, but their calls for him to pull the plug on the installation seem to be falling upon deaf ears. 
Watch footage of Tree's erection and viewer's impressions AFTER THE JUMP…