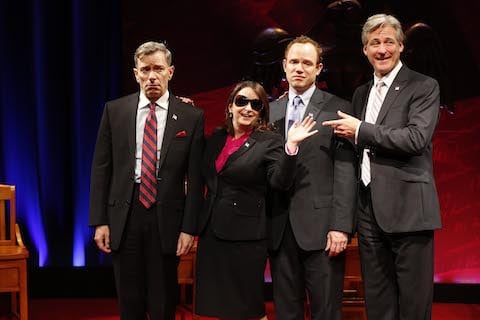 BY NAVEEN KUMAR
You probably read about them right here, but how sufficiently did you relish in the salacious details of our past decade's worth of civic sex-capades? Hoopla over Anthony Weiner's dick pics and Larry Craig's bathroom-stall cruising has long since been snuffed out the whirl of our 24-hour news cycle, but flipping back through the archives proves to be a trip in Tail! Spin!, a raunchy new comedy that opened Off Broadway Wednesday at the Lynn Redgrave Theatre.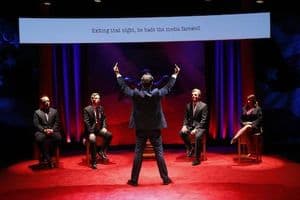 Assembled from actual transcripts (interviews, tweets, Facebook messages, etc.) by playwright Mario Correa, the sketch-style show, directed by Dan Knechtges, runs through four such public embarrassments in its swift 75 minutes. With an overarching punch line of "you can't make this sh*t up," the show proves that sometimes the bare facts are farce enough on their own.
With a cast of five, including SNL vet Rachel Dratch, the show sends up the lewd foibles of Weiner, Craig, and both Mark Sanford and Mark Foley, splicing together the pol's public denials and apologies with their baldly incriminating actions and conversations. Statements are cleverly juxtaposed to beget dirty puns and innuendo and there's knee-slapping humor in seeing the men's duplicity made glaring.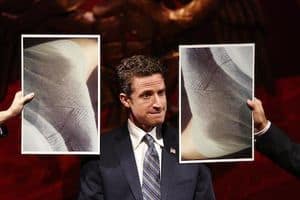 Each of four actors takes on one of the fallen officials, savoring their deceptions and missteps while mostly steering clear of cheesy impersonations. Nate Smith brings a suitably smarmy sex appeal to Weiner and Arnie Burton balances charm and sleaze in Foley's instant message teen romance. Ms. Dratch flits seamlessly between many roles, milking laughs from the posturing of wives who stood by their disgraced grooms and those who didn't. Fans of the spastic comedian will also be delighted that Barbara Walters makes a memorable cameo in Sanford's extramarital meltdown.
There was a time (not so long ago) when every day seemed to deliver another red-faced politician zipping up his trousers in the news, so that new stories no longer warranted the bat of an eye. Tail! Spin! aims to snap us out of that desensitivity by asking for a bit of retrospective pearl clutching. There's a certain nostalgia now, too, in looking back on these whipping boys, for headlines less saturated with war, deadly plague and civil unrest.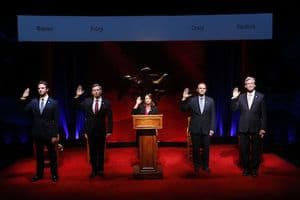 But while it deals in the simple facts, Correa's play makes little effort to morally distinguish between the natural and rather ordinary sexual impulses of its subjects and the lies they fed the press—it seems quite happy to shame the leaders for both. Even granted these are privileged, white men, the underlying slut-shaming tone ultimately feels a bit problematic: It's not Craig and Foley's gay desires or Weiner and Sanford's infidelities that deserve our (presumably liberal) derision.
We expect our elected officials, like our celebrities, to be better and different—not to have, say, naked selfies on their iClouds like everyone else. That we're shocked when they prove us wrong only speaks to our own delusions. What's really on trial here is that politicians lie, which of course is news to no one, but laughing it off sure is cathartic. 
Recent theatre features…
James Earl Jones and Rose Byrne Open in 'You Can't Take It With You' on Broadway: REVIEW
Mia Farrow and Brian Dennehy Open 'Love Letters' on Broadway: REVIEW
'Bootycandy,' Brassy Comedy About Black, Gay Experience, Opens: REVIEW
Michael Cera and Kieran Culkin Open in 'This Is Our Youth:' REVIEW
Andrew Rannells on 'Hedwig and the Angry Inch:' INTERVIEW
Follow Naveen Kumar on Twitter: @Mr_NaveenKumar (photos: carol rosegg)