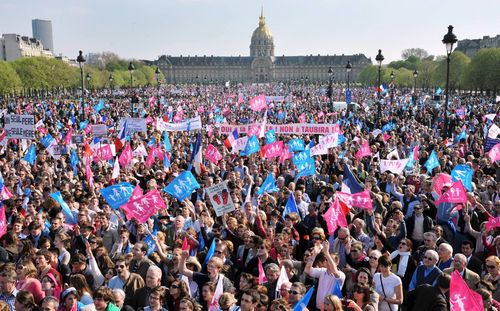 In a follow-up to last year's wave of anti-gay protests in France, tens of thousands of demonstrators took to the streets of Paris and Bordeaux Sunday to rally for so-called "traditional family values" and against surrogacy medically assisted pregnancy.
AFP reports the rally was organized by the "Manif pour Tous" ("Protest for Everyone") – the group responsible for last year's anti-gay grassroots movement in the country. The group estimated some 500,000 people took part in the demonstration. Police however claimed 70,000 were present in the capital. In Bordeaux, police said 7,500 people turned out for the march while organizers said 30,000.
Said one demonstrator speaking to Euronews:
"A man meets another man. They see each other for two weeks, they get together, and suddenly they have a child. They separate and then what becomes of the child? It's the same for a woman. Two women together isn't normal. God created a man and a woman."
Watch a Euronews report on the rally, AFTER THE JUMP…
The AFP adds:
An Ifop poll for the Atlantico website on Sunday showed that less than a third (31 percent) of French people were behind the values of the demonstration.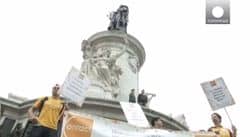 The "All Out" gay rights organisation called for a counter-demonstration "for equality of all couples and families", but drew only a few hundred people under the rain in a central Paris square, Place de la Republique.
An Internet petition it launched, however, attracted more than 200,000 signatures by Sunday.
[top photo via Facebook]