Back in August we reported that anti-gay activists in Houston had failed in their efforts to collect enough signatures for a ballot measure that would place Houston's LGBT-inclusive Equal Rights Ordinance (HERO) up for a public referendum. The activists (which included local pastors) proceeded to sue the city over the rejection of signatures and a court date was set for January 2015. 
Then, earlier this week, it was revealed city attorneys had subpoenaed local pastors tied to the lawsuit for "all speeches, presentations, or sermons related to HERO, the Petition, Mayor Annise Parker, homosexuality, or gender identity prepared by, delivered by, revised by, or approved by you or in your possession."
Parker, for her part, acknowledged the subpoenas were too broad and clarified they were issued by outside attorneys working for the city pro bono, New York reports: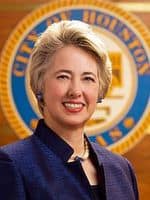 They were looking into what instructions pastors gave out to those collecting signatures for a referendum on the non-discrimination law. (What exactly the pastors said, and what the collectors knew about the rules, is one of the key issues in pending litigation around whether opponents of the law gathered enough signatures for a referendum.)
"There's no question, the wording was overly broad. But I also think there was some deliberate misinterpretation on the other side," Parker said at a press conference Wednesday. "The goal is to find out if there were specific instructions given on how the petitions should be accurately filled out. It's not about, 'What did you preach on last Sunday?'" 
As you can imagine, right-wing commentators pounced on the story as the latest example of religious liberties being crushed under the supposed tyranny of LGBT equality. 
Check out their crazed, knee-jerk reactions, AFTER THE JUMP…
Here are just a few of the right-wing freak outs from this story
Russel D. Moore, president of the Ethics and Religious Liberty Commission of the Southern Baptist Convention:
The preaching of sermons in the pulpits of churches is of no concern to any government bureaucrat at all. This country settled, a long time ago, with a First Amendment that the government would not supervise, license, or bully religious institutions. That right wasn't handed out by the government, as a kind of temporary restraining order. It was recognition of a self-evident truth. […]
The separation of church and state means that we will render unto Caesar that which is Caesar's, and we will. But the preaching of the church of God does not belong to Caesar, and we will not hand it over to him. Not now. Not ever.
Anti-gay Christian litigation group Alliance Defending Freedom, which filed a motion to nix the subpoenas:
Moreover, the discovery requests are overbroad, unduly burdensome, harassing, and vexatious. They are so much so, in fact, that it appears they were designed to punish the Nonparty Pastors for being part of the coalition that invoked the City Charter's referendum provision, and discourage them and other citizens from ever doing so again. The message is clear: oppose the decisions of city government, and drown in unwarranted, burdensome discovery requests.
Here's Fox News' Todd Starnes, who thinks gay marriage will lead to man-dog marraige, speaking about the issue on Megan Kelly's program. 
Pat Robertson called the event one of the worst events in all of American history and blamed it on openly gay Mayor Annise Parker's "predilections"
American Family Association sent out an action alert urging activists to contact the mayor:
The mayor is using intimidation, threats and bully tactics in an attempt to silence anyone who will not embrace her lesbian lifestyle.
Does the First Amendment mean nothing to Mayor Parker? Does religious freedom and freedom of speech mean nothing to Mayor Parker? Does the people's petition process mean nothing to Mayor Parker?
Georgia GOP congressional candidate Jody Hice, meanwhile, called it "the new Alamo" for anti-gay activists.
For those interested, Media Matters for America has a great breakdown of why the broad subpoena requests aren't unusual legal procedures and why sermons are not, like many of these activists seem to claim, immune from subpoenas. 
And finally, it seems no one is more annoyed by the right-wing outcry than Parker herself:
Always amazed at how little fact checking is done by folks who like to hit the retweet button.-A

— Annise Parker (@AnniseParker) October 15, 2014