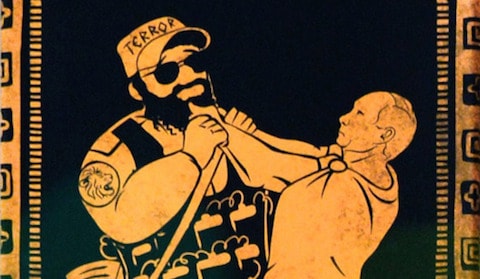 No, that's not an Onion headline. To celebrate the Russian President's birthday, members of a Pro-Putin Facebook group set up an exhibit in Moscow's "Red October" showspace entitled "The 12 Labors of Putin", directly comparing the President to the ancient Greek demigod. The works and their metaphorical associations are laughably earnest. Putin's "12 labors" are:
Nemean Lion – Putin's triumphs over terrorism
Lernaean Hydra – Putin's triumph over U.S. sanctions and battles with Japan, the E.U., and Canada
Ceryneian Hind – Putin claiming the Olympics in Sochi
Erymanthian Boar – Putin's liquidation of oligarchs
Augean Stables – Putin's fight against corruption
Cretan Bull – Putin's annexation of Crimea
Mares of Diomedes – Putin's contract for French Mistral warships
Belt of Hippolyta – Putin's south stream gas pipeline plan
Cattle of Geryon – Putin's gas contract with China
Apples of Hesperides – Putin's support of cease-fire agreement in Ukraine
Capture of Cerberus – Putin's future defeat of the U.S.
The tribute is so inappropriate on so many levels, not the least of which being that thanks to his multitude of shirtless photos it's evident that Putin lacks the pectoral girth to be compared to the strongest man of Greek legend. More to the point, the Labors of Hercules were an act of penance after Herc went temporarily mad and murdered his wife and six children; Putin is more accustomed to being on the receiving end of apologies. Plus, there's that whole thing where Herc's nephew Iolaus was his gay lover, though one imagines that inconvenient detail gets swept under the rug like Tchaikovsky.