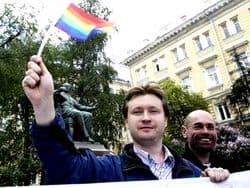 A group of Russian gay rights rights activists has filed a complaint with the European Court of Human Rights (ECHR). The group made an application in October 2013 to hold an equal marriage rally in central Moscow. The request to hold the rally was denied, with officials citing the country's laws banning "gay propaganda."
The group has attempted to appeal the decision, but it was to no avail. Moscow's Tverskoy District court upheld the ban of the rally.
The activists hope to have more luck with the ECHR, where they will be citing the ECHR charter's Article 11 (the right to freedom of assembly and association). They will also cite Articles 13 and 14, which ensure the right to an "effective remedy" and forbidding of discrimination, respectively.
Russian LGBT rights activist, lawyer and journalist Nikolai Alexeyev (pictured) is working with the activists. Via Pink News, Alexeyev says that in the last year, there have been 90 similar applications go through the same process.  In addition to the "gay propaganda" law, police have pulled one from the Serbian playbook, citing  a risk of violence to ban the events.