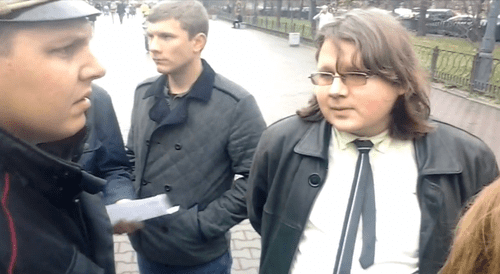 Russian authorities arrested eight organizers of a National Coming Out Day demonstration in Moscow this past weekend after being caught handing out fliers and unfurling pro-LGBT banners in Sokolniki Park. Though the demonstrators had obtained the necessary permits for their gathering, the local police force deemed the group's activity as a public threat and swiftly dispatched the small crowd. Footage of the gathering reveals a relatively small congregation of people within a largely unoccupied park.
"They were criminal policemen, who watched the rally and waited for the moment to detain the participants," Nikolai Baev, one of the detained activists told The Washington Blade. "This is a common practice in Putin's country; a lot of police agents watch all rallies in Moscow."
The organizers were rounded up by plainclothes police, placed into holding, and released hours later for no other reason than disobeying officers.
Watch video of the peaceful protest AFTER THE JUMP…