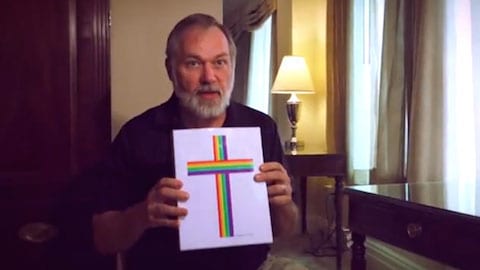 Evil bigot and driving force behind Uganda's "Kill the Gays" bill Scott Lively is being given another platform to spout his hate speech courtesy of the Russian government in a state-funded "documentary" called Sodom, because even in Russia they deliberately overlook the fact that God destroyed Sodom because of the city's "pride, gluttony, and laziness, while the poor and needy suffered outside her door," not gay butt sex.
The documentary was shown on television and produced by anti-gay TV host Arkady Mamontov, a man who actually blamed the Chelyabinsk meteorite explosion on the gay rights movement because in his fevered mind gays are also black mages who have learned to cast Meteor. In the U.S. Lively knows that his lies – such as that the average American is against homosexuality (false) – have little traction, but given Russia's relatively recent uptick in anti-gay sentiment Lively has fertile ground to disseminate his vitriol.
The video is available in full on YouTube and, as Joe Jervis points out, contains the usual shots of gay pride celebrations as examples of homosexual depravity, because everyone knows that straight people never take off their clothes and have parties in the streets.
The video, if you can stomach it, is available AFTER THE JUMP…