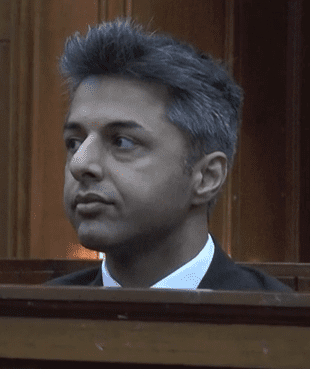 The trial of Shrien Dewani, a multimillion dollar businessman from Bristol accused of hiring hitmen to kill his wife, began today with Dewani pleading his innocence. In 2010 while on her honeymoon in Cape Town, South Africa, Dewani's wife Anni (née Hindocha) was kidnapped and subsequently murdered.
Zola Tongo, Mziwamadoda Qwabe, and Xolile Mngeni, would eventually come forward and admit the roles they played in Anni's death, but also revealed that they were hired by Dewani to kill the woman for R15,000. While the three men were all sentenced to prison sentences of various lengths for Anni's death Dewani, still an English citizen, evaded South African authorities and fought attempts to extradite him back to the country.
Though an attempt to extradite Dewani was put on hold in 2012, the British High Court sided with the South African prosecution earlier this year and successfully sent Dewani to my tried for his wife's murder. According to Tongo Dewan, a closeted bisexual man, hired the men to kill his wife in a desperate attempt to end his arranged marriage without compromising his public image.
"My sexual interactions with females were usually during the course of a relationship which consisted of other activities and emotional attachment," Dewani's legal defense explained on his behalf in a prepared statement.  "I consider myself to be bisexual. My sexual interactions with males were mostly physical experiences or email chats with people I met online or in clubs, including prostitutes such as Leopold Leisser."
Leisser, according to the prosecution, was said to have had conversations with Dewani in which he explains how he was looking for a way to get out of his marriage despite his new wife being a lovely woman. The trial will reconvene on Wednesday.
Watch coverage of Shrien Dewani's murder trial AFTER THE JUMP…