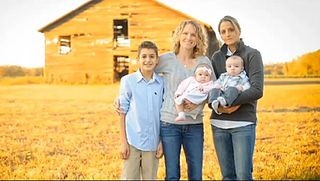 Katherine Bradacs, a State Trooper, and Tracy Goodwin, a U.S. Air Force vet, are a lesbian couple attempting to overturn South Carolina's ban on same sex marriage. On Monday the couple submitted a lawsuit petitioning U.S. Judge Michelle Childs to review the state's ban in hopes that she would find it to be unconstitutional. Such a decision would force South Carolina to officially recognize same sex marriages, like Bradacs and Goodwin's, that were performed out of state.
"There have been more than 40 federal and state court decisions striking down bans on marriage equality," their brief reads. "Five rulings have been issued by federal appellate courts covering four circuits, dozens have been issued by federal district courts, and at least 14 have been issued by state courts. Only two decisions have upheld a state's same-sex marriage ban."
South Carolina Governor Nikki Haley and Attorney General Alan Wilson are named as defendants in the lawsuit and are required by law to file a document stating their official legal positions by tomorrow.
"When our brief is filed, it will speak for itself," said J. Mark Powell, a spokesman for the attorney general. "This matter will be resolved in a court of law – not in the court of public opinion."
Both Haley and Wilson have recently affirmed that they have no intention of rolling back the ban without a legal battle.
"This issue is in the hands of the courts–our state marriage law stands until the federal courts make a clear judgment on it," asserted Doug Mayer, Haley's communications director. "Gov. Haley is duty bound to support our law and that's what she will do."