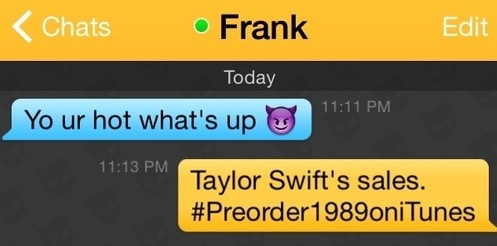 Maybe it was a joke, or maybe Taylor Swift's success simply has no bounds. Whatever the case may be, Tumblr user 'ughstory' posted a screenshot (above) of his Grindr conversation-turned-album promotion for the young pop singer (with caption: "Honestly why am I single…"), and Taylor took notice. 
Take 40 reports:
Once Taylor saw this, she reblogged the image and wrote "CANT (sic) STOP LAUGHING. I Will be applauding you for decades to come for this."
This story comes one day after Taylor went to #1 on iTunes in Canada after releasing 8 seconds of white noise.
Is this just the beginning of a new form of advertisement? Will Grindr be overrun with T-Swift fans? Only time will tell…