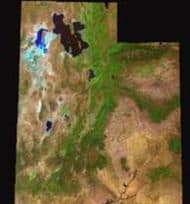 The Utah Supreme Court on Thursday lifted a five-month old stay barring same-sex couples from adoption rights, The Salt Lake Tribune reports:
The action clears the way for the Utah Department of Health to issue birth certificates that list the same-sex parents as the children's legal parents. It will also restart countless other adoptions that were left in limbo by Utah's contention that the cases should be on hold until it was clear that gay marriage would be legal in the Beehive state.
"The families involved are obviously relieved and thrilled," said Laura Milliken Gray, an attorney who represented one of the four families, and who also had six other adoptions in process when the stay was put in place.
The paper states the Utah Attorney General's Office asked the state's high court to lift the stay, following marriage equality coming to the Beehive State earlier this month. The paper also adds 26 percent of Utah's same-sex couples are raising children, according to data from UCLA's Williams Institute.