Another lawsuit has been filed against South Carolina's ban on same-sex marriage, this time after the state DMV refused to recognize three plaintiffs name change because each of these individuals is married to a person of the same sex.
The Associated Press reports: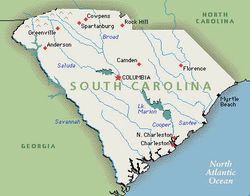 The American Civil Liberties Union and SC Equality filed the lawsuit Friday in federal court. Each plaintiff was married in another state and chose to change his or her surname but had an application to do so denied by the Department of Motor Vehicles.
Victoria Middleton, Executive Director of the ACLU of South Carolina, explained, "The Department of Motor Vehicles should not be in the business of deciding whether or not a marriage is valid.  It may demand proper documentation of a name change in order to guard against fraud.  It is unconstitutional, however, to treat citizens differently who present exactly the same documentation. There is no rational basis to assume that a person married to someone of the same sex is more likely to change his or her name fraudulently than someone married to a person of a different sex."
Last week, we reported that a federal judge had fast-tracked a separate challenge to South Carolina's gay marriage ban and could rule early as November 3.
South Carolina remains the only state under the Fourth Circuit's jurisdiction to not have marriage equality