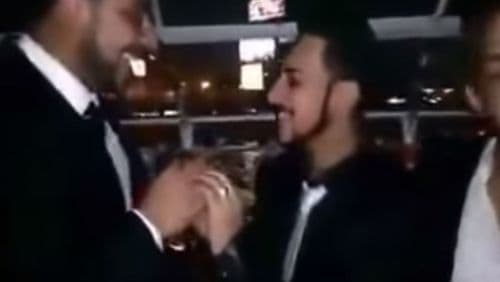 An Egyptian judge has sentenced eight men to three years in prison on charges of spreading indecent images and inciting debauchery for appearing in a video allegedly showing the country's first gay wedding ceremony, Reunters reports:
The judge ruled that they would also be subject to police supervision following the completion of their prison sentence.
The sentence was met with uproar from the families of the defendants, who demonstrated outside the courthouse in downtown Cairo and were cleared by police. The defendants, who had denied the charges, stood silent in the court room cage as the verdict was read, one of them holding up a copy of the Koran. […]
The men were first charged in September when a public prosecutor's statement said that the images were "humiliating, regrettable and would anger God", concluding that they constituted a criminal act. The prosecutor ordered the coroner to carry out physical examinations as part of the investigation.
BBC adds that although homosexuality is legal in Egypt, it remains taboo and police raids on gay establishments have risen in recent months. 
The BBC's Middle East editor Sebastian Usher says Islamists had led the chorus of outrage against the video, saying that it proved moral standards had dropped since Islamist President Mohammed Morsi was removed from power last year.
Last month, we reported on the growing concerns that Egyptian authorities were utilizing new online monitoring softwar to target LGBT peple in the country.