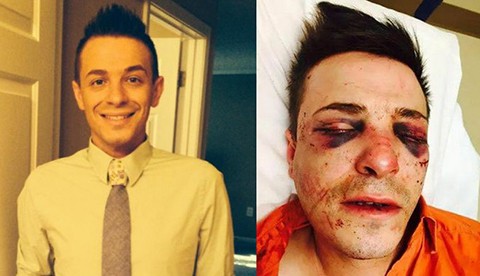 The Tennessee Equality Project is pushing law enforcement in Knoxville, Tennessee to prosecute the brutal attack of a local gay man, David Keck, as a hate crime. Keck was savagely beaten by suspect Dennis Wilder after Keck allegedly made sexual advances towards Wilder. The report of the night's events is according to Wilder who turned himself into police after beating Keck unconscious and stealing $100 in cash from him along with his car. WVLT reports:
According to witnesses, two men, identified as Wilder and David Keck, left Bullfeathers Bar and headed to Keck's place at the Brendon Park apartments off Cedar Bluff.
Wilder is quoted in a police report telling officers he had hit Keck "several times" after David came on to him sexually at the apartments.
When police showed up, they found David Keck "beaten unconscious," and say Wilder told them he was afraid he'd killed Keck.
Keck is currently suffering from short term memory loss due to the heinous attack. Wilder does not currently face any hate crimes charges, only aggravated robbery chargers, a fact the Tennessee Equality Project is looking to change:
"Thankfully because Tennessee does have sexual orientation under hate crime law the D.A. can ask for enhancement, which would be a stricter penalty as well," [said Gwen Schablik, the Tennessee Equality Project Committee Chair for Anderson, Knox and Blount Counties.]
The Knoxville Police Department says it is unlikely the district attorney's office will bring hate crime charges against Wilder.
Wilder is scheduled to be in court on Friday.
Keck shared the images above with WVLT "because he wants us to show and tell his story."