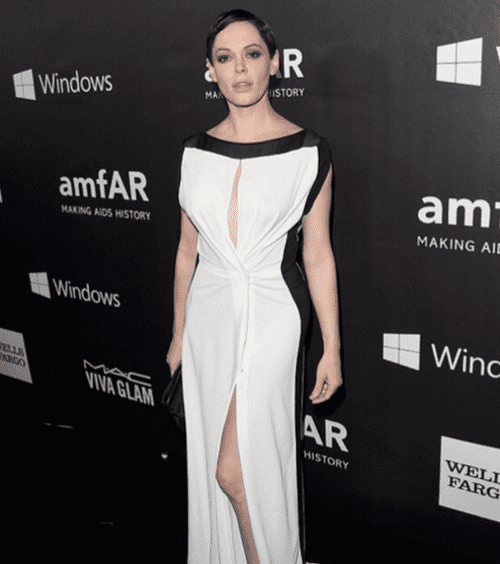 (photo via Instagram)
Actress Rose McGowan (Scream, Grindhouse) has taken to Twitter and The Advocate to clarify her recent claim that gay men "are as misogynistic as straight men, if not more so" – explaining that while her comment was an over-generalization and inarticulate (to which she apologized for) she still stands by the underlying point of the matter. 
The initial controversy erupted after McGowan appeared on gay author Bret Easton Ellis' podcast weekly podcast and issued a so-called "indictment" for what she saw as the gay community hypocritical move to boycott Sultan of Brunei-owned hotels because of the country's anti-gay laws while ignoring the human rights concerns of women in the Middle East and elsewhere. Back in June, McGowan organized a counter-boycott at the Brunei-owned Beverly Hills Hotel in support of hotel staff.  
Here are a few of McGowan's quotes pulled from the podcast interview (which you should listen to in full if you have the option):
"You wanna talk about the fact that I have heard nobody in the gay community, no gay males, standing up for women on any level?" she said. 
"Women, by-and-large, have very much helped the gay community get to where they are today."
"And I have seen not a single peep from the Cleve Joneses or any of these people who supposedly represent lesbians as well… the equal pay act was shut down by Republicans in the Senate, not a single man mentioned that."
"I see now people who have basically fought for the right to stand on top of a float wearing an orange speedo and take molly [MDMA]."
In an op-ed published over at The Advocate, McGowan responded to the backlash she faced after the comments:
Where does it say that because of a man's sexual orientation, I don't get to point out a character defect that some of them may have? When equal pay for women was voted down by every male Republican, there was no LGBT outcry. I wondered why that was. After all, lesbians are women — this affects them too, right?
Misogyny infuriates me and it endangers me as a human. It also endangers the LGBT community. Empathy for the plight of women isn't making it better. Your voice will.
Could I have articulated my frustration in a better fashion? Undoubtedly. For that I apologize, but I stand by my overall point. The rights that have been earned by the community are simple civil rights.
McGowan also wrote on Twitter: "I'm speaking about MY experience as a disenfranchised activist.I apologize because I like speedos (they're funny,) I like floats and I'd probably like Molly if I tried it. #human"
Think McGowan has a point about misogyny within the gay community?