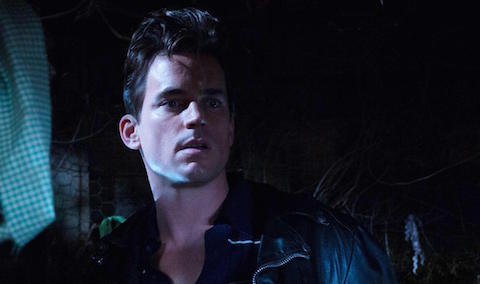 THAT's more like it. I stand by my assessment that the Edward Mordrake episodes were fairly weak. For a Halloween horror spectacular, the two-part story was only scary to those who have a crippling fear of exposition. Unlike tonight's episode, which was tense and disturbing and also sexy and even at times funny. ("I'd rather be boiled in oil than be on television" is no "KNOTTY PINE?!" but it was still the kind of line that only Jessica Lange could deliver properly.)
Tonight also marked Matt Bomer's American Horror Story debut, and it certainly was … memorable. 
Let's start with the Dandy story of the evening. But before we get into all the terrifying, twisted action, can we just take a minute to ogle appreciate Finn Wittrock?
I'll save the spoilers (and more hunky undies GIFs) for AFTER THE JUMP …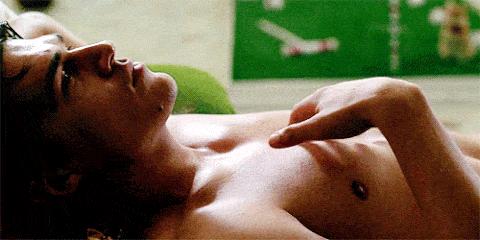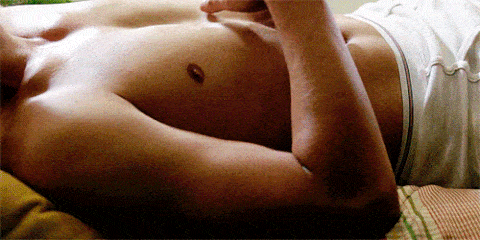 Now that we've got that out of the way, let's pick back up at the Mott residence where Gloria (Frances Conroy) is just waking up. And, as we all know, the best part of waking up is a hot, fresh cup of joe. But what's this? She can't smell the coffee brewing hear the percolator. She floats downstairs only to find the maid, Patti LaBelle, murdered on the floor.
Oh, no! Someone must've broken in and killed poor Patti LaBelle for no reason and then stolen nothing from this mansion. Surely that's what happened. Well, it is if you ask Dandy (Wittrock). Gloria may not be some Benson or Stabler, but even she knows this was Dandy's doing. She sends him to his room while she cleans up his mess.
She commissions a flowerbed to be dug extra deep in the yard. They toss the body in and then plant some bulbs above it (narcissus bulbs, because SYMBOLISM!). Dandy's glad that business is all sorted out, and isn't it grand that Patti LaBelle's body will decompose and feed these beautiful flowers, and, by the way, sorry about killing Patti LaBelle. But Mama Mott is just sort of over the whole thing. She tells him that this is just par the course when you're fabulously rich. All the old money inbreeds to keep the fortune in the family. A few nutjobs are just sort of expected in her eyes. Like Daddy Mott. He had a similar predilection and eventually ended up swinging from a Japanese maple.
That doesn't help Dandy right now. This all happened because his mother didn't let him follow his dreams of becoming an ACTOR, so now he has to murder somebody. He can't keep going around murdering just anyone though, since, you know, people have families and whatnot. So, instead, he goes for the only people more hated than the freaks down in Florida: The gays. (Some things never change, eh?)
He heads down to the local gay watering hole, where he runs into Dell Toledo (Michael Chiklis) in the midst of a lovers' quarrel with a handsome rentboy named Andy (Matt Bomer). That's right, he's a gay strongman. Dell's a self-hating homosexual focusing his affections on an emotionally unavailable, beautiful man. Dell's in love, but this is business for Andy. When Andy tries to explain that this is a job to him, the strongman goes storming out.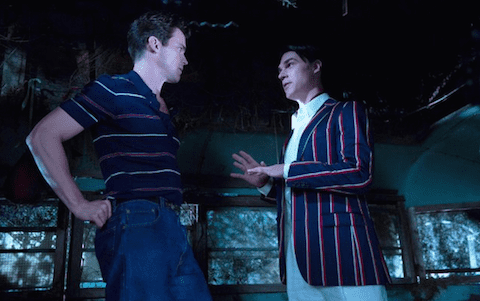 And that's when Dandy steps right in. He pays Andy $100 to go back with him to Twisty (R.I.P.)'s trailer for a little alleged sexytimes. If the dirty trailer in the woods wasn't the first red flag, Dandy recoils once Andy goes in for a kiss. Instead, young Mr. Mott requests they turn back-to-back, take off all their clothes and then turn around at the count of three. Sounds like fun, right? I'm totally onboard with this whole Finn Wittrock and Matt Bomer take off all their clothes thing until Andy turns around to see Dandy wearing the Twisty (R.I.P.) mask and then STAB STAB STAB. Andy's down. But he's not quite out. Dandy repeats; STAB STAB STAB. Then it's time to dispose of the body, so Dandy starts hacking off limbs to toss into a tub of acid. But oops! Andy's still sort of alive. STAB STAB STAB. You're giving Dandy a complex, Andy! Maybe you should just say goodbye.
Gloria should also learn to say goodbye. Instead, when Patti LaBelle's daughter (Gabourey Sidibe) calls from secretary school, Gloria launches into this awkward conversation about how she raised Dandy like she was raised, and that after she sent the nanny in to take care of Dandy one time he stopped asking for his mother at all, and, OH MY GOODNESS, LADY, Patti LaBelle's daughter was just calling to ask she could talk to Patti LaBelle, not be your therapist. Sheesh. Could you just ask Patti LaBelle to call Patti LaBelle's daughter right away, otherwise Patti LaBelle's daughter is going to assume your crazy son murder-stabbed Patti LaBelle to death. THANKS. And that's when Dandy returns home covered in blood. Sorry, mom.
Things aren't going great back at Fraulein Elsa's while Dell's out gallivanting with Andy (R.I.P.). His wife, Desiree (Angela Bassett) is all upset in her trailer. Jimmy (Evan Peters) comes to look for Dell for the big show, but when he finds a drunk, miserable Desiree, the two have a little bonding moment. She talks about how she's always felt like a freak before Dell, and Jimmy confesses to murdering the cop which eventually lead to Meep's death. That moment of vulnerability creates a connection between the two. They start to get a little intimate, but when Jimmy sticks his lobster claw into her oyster and snail buffet, she begins to bleed. Like a lot.
Ethel (Kathy Bates) escorts her to the kind doctor. He reveals that Desiree isn't intersex at all. Instead, she's completely a woman; she just has an enlarged clitoris. Also, that bleeding was a miscarriage. Though it may not sound like it, that's good news to her. It means she's fully, 100 percent a woman (and then some). When Dell comes home, she tells him that she's going to get surgery on her down there and live her life like any other three-breasted woman. Ethel told her all about how he's Jimmy deadbeat dad and that was the last straw. She picks up her bags and leaves. Smell ya later, Dell.
Distraught, Dell pays a visit to the kindly surgeon to tell him not to operate on Desiree. Not satisfied with his promise to forgo the procedure, Dell breaks up his old surgeon hands and then tells him if he mentions this to anyone, he'll snap his grandchildren's fingers like twigs. Yeesh.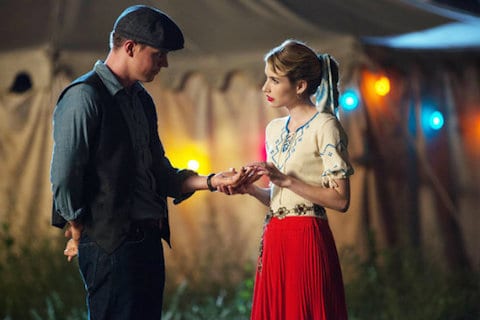 Elsewhere on the grounds, Stanley (Denis O'Hare) and Esmerelda (Emma Roberts) are still hanging around. He's fantasizing about selling the performers' bodies, but she can't quite get over the whole murdering a bunch of innocent people part. She tries to feign a lobster claw reading on Jimmy so she can warn him to get away from the grounds before Stanley gets to him, but, when she dodges his attempted kiss, he stops listening.
Elsa (Jessica Lange) initially resists Stanley's offer to have her own television show. It's not until her performance of "Life On Mars" bombs in front of the sold-out crowd that she reconsiders. At that point, though, she's not the only one with her sights set on Hollywood. He's already offered a TV deal to the twins (Sarah Paulson). With the hook baited, it's time to reel in Bette and Dot. He tries to slip them a poisoned pink cupcake, but Dot isn't going to let them get cupcake fat ahead of their TV debut.
She should have worried less about cupcakes and more about Elsa. Unsurprisingly, she's not thrilled to see Stanley's attention diverted. She tells the girls that she is also getting her own show and is coming to California to mentor them. First step: Makeover! She's got a seamstress downtown ready for a fitting. See you in the morning, good nacht!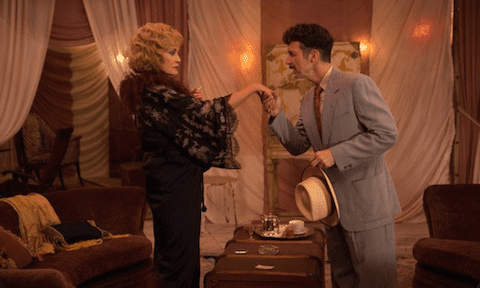 The next day, she loads the girls in the car. As they head down the road, they start to get suspicious when Elsa misses a turn to downtown. Oh, they're not going downtown. Elsa's got something even better in mind. They're going to the Motts! Hope you like STAB STAB STAB and aren't particular about having your coffee ready first thing in the morning. 
What did you think of the episode?