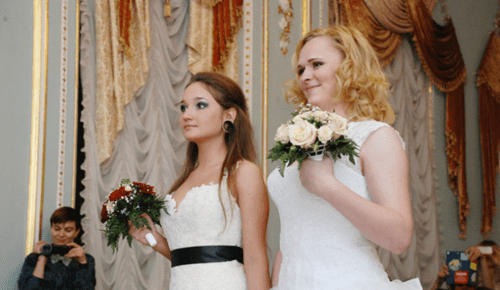 Vitaly Milonov, the notorious St. Peterstburg lawmaker who championed Russia's anti-gay 'propaganda' ban last year, is furious about a 'same-sex wedding' that took place in the city on Friday, BBC reports: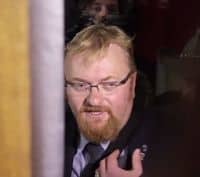 The couple, named as Irina Shumilova [above right] and Alyona Fursova, arrived at a registry office in St Petersburg, both wearing white bridal dresses and carrying bouquets.
They posted pictures of the ceremony on the Russian social media site Vkontakte.
Irina, who describes herself as transsexual rather than transgender, is still undergoing hormone therapy.
Mr Milonov – one of the most ardent supporters of the 2013 law – told Russian media the staff at the registry office should be tried for treason or criminal negligence.
He would seek the marriage's annulment to avoid "an ugly insult to millions of Russian families in the future", he added.
"There are certain moral standards which it is vital to implement," he said. "These mad people should be banned altogether from getting married."
Last month, after Tim Cook came out as gay, Milonov called for a lifetime travel ban on the Apple CEO. 
[top photo via vt.com]