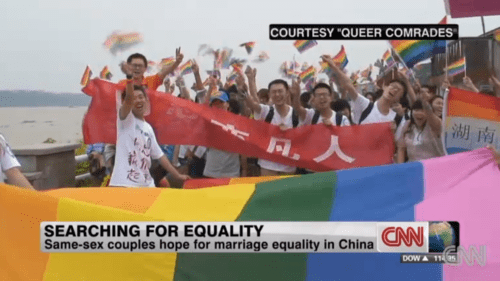 It's been 17 years since homosexuality was decriminalized in China. 
But the LGBT community in the world's most populous country is still facing enormous challenges, according to a new CNN "On China" report.
In 2013, a Pew survey found that only 21 percent of Chinese people favor acceptance of homosexuality. 
Practices like shock therapy to "cure" homosexaulity are still common, and there are no laws against anti-LGBT discrimination. 
In fact, the biggest issue facing the LGBT community in China is not same-sex marriage — which remains illegal — but opposite-sex marriage. 
Studies have shown that as many as 10 million Chinese women are married to gay men. That's because Chinese culture places enormous pressure on people to produce offspring — pressure that is only intensified by the country's one-child policy. 
In the LGBT community, sham marriages are the norm — and there are even websites dedicated to matching gay men and women. 
"If you're not [married], you're a monster," LGBT activist Xu Bin told CNN. "If you're above 25 years of age, and you're not married, you're an outcast — there must be something wrong." 
China's Communist government is officially neutral on homosexuality, activists say. However, national security forces watch LGBT advocacy groups closedly and have warned them about being too vocal. 
If nothing else, the CNN report is a reminder that we've still got a lot of work to do overseas, not just in countries where gays are actively persecuted, but anywhere our LGBT brothers and sisters aren't free and equal. 
Watch two videos previewing the report, AFTER THE JUMP …