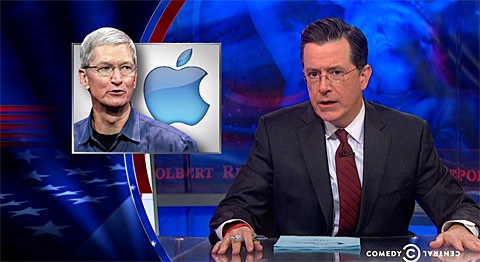 In his Tip/Wag segment last night, Stephen Colbert took a look at Nazi dairy products, the news that men who have multiple sexual partners have a lower incidence of prostate cancer, and Tim Cook's coming out.
Warns Colbert:
"Yes, Apple CEO Tim Cook has come out as gay, which means two years from now, Microsoft's CEO will also come out as gay."
He also advises Cook on what he should have done:
"As a corporate titan this man should follow tradition and hide his sexuality in the Caymans."
Finally, he's angry Cook shows no remorse for being gay, and forecasts what is going to happen six months from now.
Watch, AFTER THE JUMP…