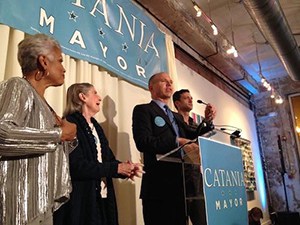 Openly gay Washington D.C. City Councilman David Catania has conceded the race for mayor of the nation's capital, ending his hopes of becoming the city's first openly gay mayor. The Washington Blade reports:
D.C. Council member Muriel Bowser (D-Ward 4) won Tuesday's mayoral election, turning back a strong challenge from fellow Council member David Catania (I), who fell short in his bid to become the city's first openly gay mayor.
Bowser expressed strong support for LGBT issues throughout the campaign after defeating incumbent mayor and fellow Democrat Vincent Gray in the April primary. The race divided the local LGBT community, with some longtime LGBT advocates supporting Catania's bid to make history and others sticking with the Democratic nominee Bowser. Still others backed former Council member Carol Schwartz, a longtime LGBT ally who ran as an independent.
In the end, it wasn't close. Bowser won about 54 percent of the vote to Catania's 35 percent and Schwartz's 7 percent.. Catania gave up his Council seat to run for the job.
(Photo via Twitter)