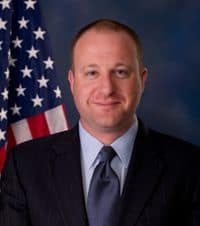 Out gay Congressman Jared Polis of Colorado won his bid for re-election last night in a victory for Democrats and LGBT candidates. The Huffington Post reports:
Rep. Jared Polis (D-Colo.) defeated Republican attorney George Leing in the state's 2nd District Tuesday.
Polis was first elected to the House in 2010. He ran unopposed in this year's Democratic primary.
The wealthy progressive representative attracted attention this election cycle as he gave financial support to two ballot initiatives that would have restricted natural gas fracking in the state. Polis stopped bankrolling the measures over fears that they would hurt Sen. Mark Udall (D-Colo.) and Gov. John Hickenlooper's (D) re-election chances.
The congressman is considered a rising Democratic star. He's rumored to be one of the candidates vying to be the next chairman of the Democratic Congressional Campaign Committee.
Polis has been an outpsoken advocate of the Employment Non-Discrimination Act (ENDA) as of late, although his discharge petition aimed at progressing the legislation recently stalled out.