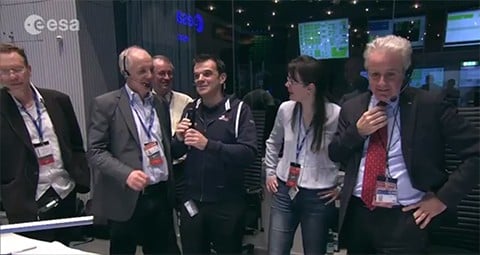 The European Space Agency has successfully landed a probe on a comet for the first time. CNBC reports:
A probe from a comet-chasing spacecraft successfully landed on its target Wednesday in a 10-year mission that could hold answers to the origins of life.
The European Space Agency's Rosetta spacecraft, which launched in 1994, released the Philae probe Wednesday, and it landed on Comet Churyumov-Gerasimenko hours later. It's the first time a man-made object had ever touched down on a comet.
The lander will extract and analyze samples from the comet, and scientists hope the data could contain hints about the history of the universe.
Watch videos of the ESA team sharing their historic news, AFTER THE JUMP… 
Touchdown! Min nya adress: 67P! #CometLanding

— Philae Lander (@Philae2014) November 12, 2014
ESA DG J-J. Dordain: "We are the first to have done that, and that will stay forever!" #cometlanding https://t.co/CfRlOqi1n8

— ESA (@esa) November 12, 2014
"We're are on the comet!" #cometlanding https://t.co/c6xIWJp0TR

— ESA (@esa) November 12, 2014
Philae has landed!: http://t.co/hBTZE1Lszz via @YouTube

— Nature News&Comment (@NatureNews) November 12, 2014